Yuneec Breeze 4K Review
Posted on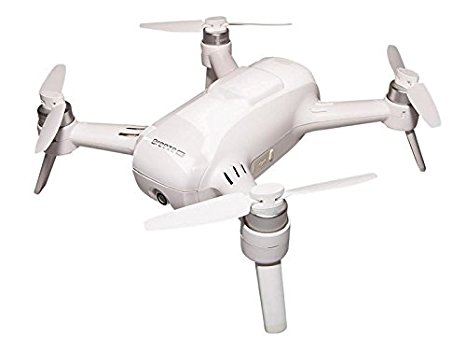 Yuneec Breeze 4K
The Yuneec Breeze 4K
is a well built yet simple design, though with a weight of 385g and dimensions of just under 20cm x 20cm, it is not quite as compact and portable other pocket selfie drones. This is compounded by the fact that the foldable legs and props but not foldable arms, however it comes with a compact hard case so it is easily made travel-ready, and the extra weight makes it more resilient to wind.
The Yuneec Breeze 4K
is shipped with 2 batteries, so will give you a maximum flight time of 24 mins with a charge time of 45 mins for each battery, but you can also buy additional Yuneec Breeze Spare Batteries
. It has several flight modes and features including Return to Home, Selfie Mode (for close ups), Orbit Mode, Journey Mode (flies away and back to you) and Follow Me, all of which work really well. It uses a smartphone app to control it, and has 16GB of internal storage and videos and images can be easily downloaded to your smartphone/PC or shared directly to social media. The Yuneec Breeze 4K
comes with a full set of extra propellers, and also propeller guards which are recommended for use indoors. Changing the props requires a 1.5mm hex key which is not included with the drone, and neither are the instructions on how to do it! If you break the spare ones you can buy additional Yuneec Breeze 4k Spares
easily and cheaply.
It is extremely easy to fly, and its 2 x GPS means it holds its position brilliantly when flying outdoors. It also has a Pilot Mode, which gives you full control of the drone and is used for example when flying indoors or in built up areas when GPS signals may be impaired. The Breeze is equipped with Indoor Positioning Sensors which use textures on the ground to hold its position and altitude indoors. It also has an optical sensor on the bottom which helps with smooth landings, however if you are flying over water it can get confused due to reflections, and cause the drone to fly lower than it should so beware that you don't lose it in the sea.
You can change between 3 different camera resolutions within the app, namely UHD (4K) = 2160p @ 30 FPS, FHD = 1080p @ 30 FPS with digital stabilisation and HD = 720p @ 60 FPS with digital stabilisation, and it will also stream 720 HD live to your smartphone. The camera is controlled by a different app on your smartphone so you have to switch between the two when flying and filming but this is pretty easy. The Ultra High Definition 4K video is not stabilised and there is no gimbal but the camera is encased in a soft rubber socket so the video does not jump around too much, however obviously it cannot compete in terms of quality with a gimbal mounted camera.
Our Verdict
This drone is simple to fly with excellent build and software quality, and fantastic, reliable flight features. On top of this the camera quality is superb, what's not to like? Brilliant value for money and 5 stars!